6 Unmissable Interior Design Trends for Summer 2018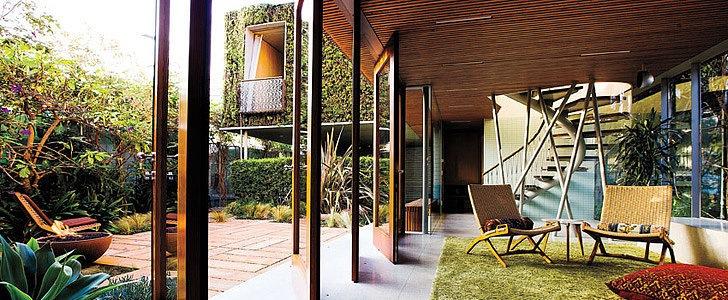 Summer is the perfect time to introduce a new look into your home. Whether you're looking to completely overhaul or just want to add in a few stylish touches to bring your home in line with the latest trends, then there is no better time to do it than now.
Concealed Technology
2018 sees a shift towards living rooms that are technology free. TVs are becoming hidden and the living room is being reclaimed as a room for socialising in rather than zoning out. Concealed technology is much more than just simply hiding the TV. It means investing in bespoke charging furniture or even creating charging stations to keep your cables out of sight. By keeping cables out of view, you can create a minimalist look which can then be used as a blank canvas for further trends.
Spa Bathrooms
Transforming your bathroom into an extra living space rather than just a functional room is a great way to instantly refresh the room. By introducing furniture and hiding the clutter, you can create this look relatively cheaply. Add in a small table and chair alongside some white fluffy towels, put your bath salts into a crystal decanter and introduce some freshly cut flowers in a crystal vase to instantly refresh a tired bathroom.
Bring The Outdoors In
Greenery, natural light and simple outdoor accents are at the centre of one of this summer's biggest trends. Bringing the outdoors inside is the perfect way to add balance to your home if you don't have a garden or if you preferred to be surrounded by outdoor accents. Turn your focus to making the most of natural light by removing light and flowing materials, introduce some potted plants of varying sizes and shapes to introduce some refreshing greenery and think about bringing your outdoor furniture in to replace bulky sofas.
Pops of Colour
Adding pops of colour into a room is on trend this summer with many people choosing to add small accents of colour to brighten up their homes. This is one of the easiest and more natural ways of achieving one of this summer's trends, and can be done by adding a colourful wall clock or ornament or a brightly coloured chair.
Beach Materials and Fabrics
Take inspiration from a beach house and add in natural fabrics and materials, with delicate sun-bleached hues. Cane furniture works well for this trend, especially when paired with hard-wearing rugs and raffia cushions. You can easily achieve this look in your home by adding smaller accents, such as light coloured cushions or mirrors with worn wooden frames.
Eclectic Kitchens
You can create an eclectic vibe in your kitchen by simple mixing styles and materials. Kitchens are moving away from the sleek and polished style and moving in favour of marble worktops, rustic style wooden floors and vintage rugs. Appliances look great in black stainless steel to create a much sleeker appearance, which is miles away from the pastel shades that were on trend previously.